Luxury, Contemporary Wedding & Celebration Cakes in London
Make your special occasion even sweeter! Discuss your ideas and start your cake order
Enquire now
Want to learn to bake & decorate cakes like a pro? Check our online and private classes here
Learn more
Welcome to Rosalind Miller Cakes, a London based cake studio, creating luxury, modern wedding cakes and celebration cakes. Fusing exceptional design, exquisite craftsmanship and the finest ingredients, our delicious wedding cakes, birthday cakes and dessert tables are the perfect accompaniment to all of life's celebrations.
Our cakes are enjoyed at weddings and anniversaries, birthday parties and baby showers – any occasion that calls for a sweet treat! From tiered wedding cakes adorned with sugar flowers to dainty cupcakes topped with buttercream, delicately iced biscuits to melt-in-the-mouth macarons, we put love and care into every bite.
We also teach students how to bake and decorate cakes like the pros! We have a wide selection of online cake masterclasses and private classes at Rosalind Miller Cake School, so whether you're an amateur baker looking to learn new skills, or more experienced and wanting to advance your baking abilities, you are sure to find the perfect online class to suit you.
If you're looking for the perfect edible finishing touch for your event, we're here to help. Get in touch today to find out how we can make your special occasion even sweeter!
---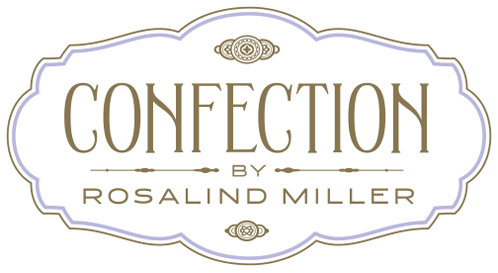 Visit CONFECTION by Rosalind Miller >
Our range of Ready-to-Order luxury cakes available to order online
---
Huge thanks to you and Rosalind for such a lovely cake! We received so many compliments both on the look and the deliciousness of the cake. Our guests definitely went picture-crazy over your cake.
– Youngyee and JJ
– Blenheim Palace, September 2017
The cake was a huge success (quite literally!) and I'm grateful to you for making it so.
– Hannah
– London, July 2017
We'd like to thank everyone for the cake you made for our wedding. It was perfect and just like we imagined it would be. All the guests loved it too. Thank you once again for the cake and the wonderful service.

– Sana
– The Lanesborough, February 2017
A very big thank you for the amazing cake you made ... it was delicious and looked awesome!
– Samar
– Dubai
Thank you for the fantastic cake. It enhanced the Wedding and made it a wonderful day.
– Geoffrey
– The Conrad St James, London
Previous
Next
Luxury Wedding Cakes in London
Our expertly crafted, luxury weddings cakes complement the style and aesthetic of your celebration perfectly. Featuring exquisite decorations, detailed embellishments, and an abundance of personally designed sugar flowers, our luxury wedding cakes (made in the heart of London) are perfect for your celebration.
Designer Wedding Cakes
Our designer wedding cakes combine fresh and delicious ingredients with bespoke, high-end design patterns. Bring your wedding to life (whether it be an intimate or lavish affair) with our extensive range of luxury wedding cakes and confections. Not only are our designer wedding cakes oozing with mouthwatering flavour, but they are also beautifully detailed and adorned with unique, personalised decorations.
Wedding Cake Maker
All exquisite wedding cakes begin with a dedicated, talented and experienced wedding cake maker. Very shortly after Rosalind Miller Cakes was born, our founder, Rosalind Miller, quickly earned an enviable reputation as a superb wedding cake maker of contemporary and refined wedding cakes. Rosalind won the award for London and National 'Best Wedding Cake Designer' 2 years in a row, and many successful years later, now judges for multiple industry awards.