Events
At Rosalind Miller Cakes, as well as making magnificent cake creations, we like to keep busy with all sorts of exciting events, exhibitions and installations.
And we love to collaborate. Whether it's for a private, press or corporate event, no idea is too big, small or far-fetched for our brilliantly creative team to bring to life in sugar.
Get in touch with us to discuss how we can work together on your next event, and read on to see what we have coming up, as well as some of our past highlights.
The Wedding Gallery
Opening October 2017

We're so excited to part of this unique, first of it's kind, wedding experience.
This brand-new concept, located in the heart of Central London at the beautiful One Marylebone, is a one-stop-shop for wedding planning with the biggest names in the industry, all under one roof.
Visit us there from October 2017 for a uniquely tailored wedding planning experience, and a glass of bubbly!
---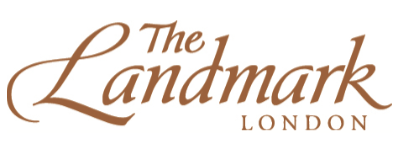 Christmas Cupcake Masterclass at The Landmark London
29th November 2017

It's that time of year again!
We've partnered with the iconic hotel, The Landmark London, for a second year to bring you a festive afternoon of cupcake decorating, champagne and canapés!
Rosalind will be teaching an afternoon masterclass in decorating beautifully festive cupcakes, to get you in the Christmas spirit.
Spaces are limited so be sure not to miss out!
Book your place here.
---
The Wedding Industry Awards 2018
January 2018

Rosalind will be judging the awards for a fourth year in a row with the winners announced in January. The Wedding Industry Awards continues to showcase the very best talent and hardworking businesses in the industry.
The competition is still open! You have until the 16th October to enter. Register here.
We can't wait to see who's in the running for the next round of amazing cake making talent. Watch this space!
---
Harrods Christmas Window 2015 - Giant Gingerbread House
December 2015

For their Christmas 2015 window display, Harrods commissioned us to make a giant gingerbread house, standing at nearly 2 metres tall and 3 metres wide. The house is constructed of over 42 large gingerbread tiles weighing 40 Kg and around 200 sugar roof tiles, with 33 hours of baking and 20 hours of hand-piped sugar details. It takes centre stage in one of the main windows on Brompton Road, and alongside it you can see our Mini Gingerbread Houses, Gingerbread Christmas Trees and Gingerbread Reindeer Biscuits (available to buy in store). See our Harrods Christmas products here.
---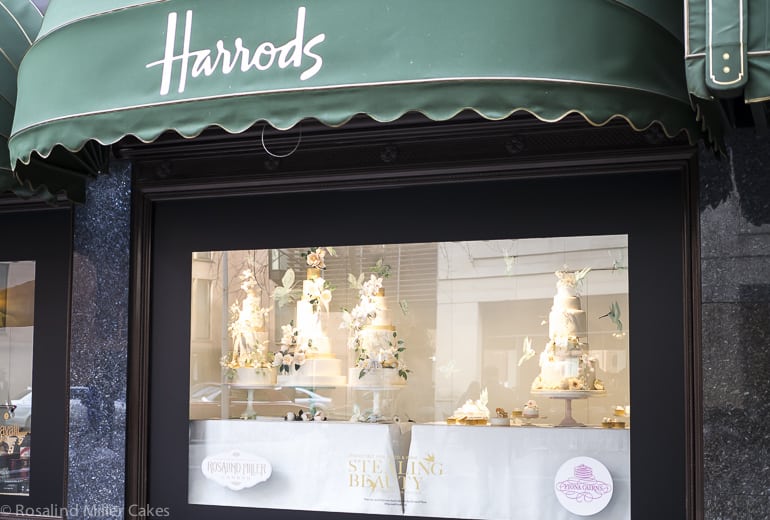 'Stealing Beauty' Harrods Window Display
February 2015

Rosalind Miller Cakes was invited to take part in a very special event; the takeover of the iconic Harrods window displays on Hans Crescent by suppliers from the Harrods Food Halls.
Harrods commissioned us to design 3 new cake designs for a wedding cake display which was unveiled in the windows on Saturday 21st February.
For this unique display we designed 'The Botanical Collection', featuring hand painted flowers inspired by botanical illustrations, and handmade sugar flowers.
---
The Most Expensive Cupcake in the World
September 2013

We were commissioned by the Food Network to create 'the most expensive cupcake in the world' for an event to celebrate 'National Cupcake Week'. The cupcake was made with some very lavish ingredients, including Hawain AA tea, Chateau Y'quem wine, Charbonnel et Walker chocolate, Ritz Escoffier champagne jam and 24 carat gold leaf. The £768.85 cupcake was unveiled on the final day of fashion week and guarded by a security guard throughout the day.
---
Marie Antoinette at The V&A
December 2012

For an event at the Victoria and Albert Museum we created this giant sugar sculpture of Marie Antoinette, made entirely from sugar with a cake centre.
---
---
Now Available
for
Online Ordering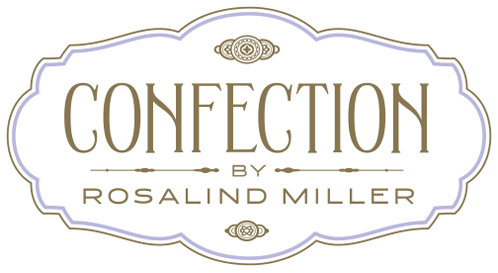 Our new ready-to-order luxury cakes & confections.
Visit CONFECTION by Rosalind Miller >
Use code RMC15 for 15% off your order!
---
I wanted to say a huge thank you for supplying such a beautiful and delicious wedding cake for my client. Guests loved it and the bride and groom were so happy with everything. It looked so classy and elegant.
– Rianna, Mango Pie, Two Temple Place, June 2017