Rosalind Miller Cake Making Courses
Here at Rosalind Miller, we're passionate about cake baking, cake decorating, and everything else in between.
We've been doing this for over 10 years and take great pride in our dedication to perfecting the art of baking. Now, we want to share our knowledge and expertise with other like-minded bakers. It's why we've introduced a selection of online cake making classes and in-house cake baking courses, all of which are designed to equip you with the skills and understanding you need to make it as a professional baker.
There's a Rosalind Miller cake class for everyone; so whether you're an amateur needing instructions on how to bake a cake or an experienced baker; or whether you prefer learning at your own pace behind a screen, or want more hands-on, face-to-face instruction, you'll find a class that's right for you.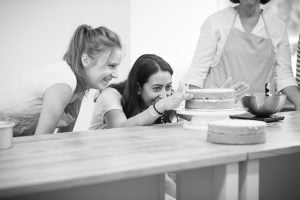 In-house Cake Making Courses
The magic takes place at our London Cake Decorating School – home to our Professional Diploma in Cake Baking and Decorating, as well as our individual masterclasses. Each of these classes run through everything you need to know to create the most beautiful cakes and desserts.
Our classes all consist of small groups. We believe this intimate setting allows each baker to ask any questions they like, and to perfect their skills in a comforting and friendly environment. At Rosalind Miller, we want each and every student to leave our cake making courses and classes with a new lease of confidence in their ability to create their own stunning and delectable designs.
Sign up for our cake making courses and you'll be schooled by our experienced team, based within our very own cake studio. They'll take you through the step-by-step process of becoming an expert baker, from basic baking and design fundamentals to the elements needed to develop a fully-fledged cake making business.
So what are you waiting for? Get those sleeves rolled up, apron on, and rolling pin at the ready!
Online Cake Baking Classes
Becoming a baker has never been easier. Our online cake baking classes allow you to learn all you need to know from the comfort and familiarity of your own kitchen.
The Rosalind Miller Online Cake School is excited to introduce a wide selection of online classes based on our sell-out London School classes. The classes on offer include the most popular class from our London School,  Baking Fundamentals. It's for anyone around the world and will ensure you learn everything you need to know about cake making – from how to bake a cake to how to buttercream ice and decorate it before applying the perfect finishing touches.  You can also sign up for The Art of Vegan Cake Baking masterclass, All About Buttercream masterclass, Cake Baking and Design masterclass, and lots more!
The best thing about these online baking classes? They include downloadable guides and video tutorials that you can read through and watch at your own pace, with lifetime access so you can come back to them as many times as you like.